The Original and Innovative Storm & Hood Cover, Covering 'Cockpit' and bonnet vents for that complete protection from the elements
The ideal storm protection for covering your Morgan. The storm cover is a lightweight fold-away cover for your Morgan covering the bonnet vents and cockpit. Securely attached to the Morgan with 10 elasticated straps to ensure no 'ballooning or lifting' off in high winds. Very easy to fit in a few minutes in place of a tonneau or hood fitting either on a temporary basis or to install for that extra overnight security. Has the added protection for the engine bay against ingress of rainwater hence protecting the electrics, scuttle area, battery (if fitted at the front), toolbox, windscreen seals and ignition area.


Quality custom made

Machine sewn and all edges bound with webbing.

highly water resistant of durable 4 oz nylon material


Lightweight

Supplied with handy storage bag 12"x10"x1"

Stows easily behind the seat 'well' or rear storage shelf

Colours available are Dark Green, Navy Blue and the ever popular Black

Suits 4/4 +4 +8 and Roadsters and now the new CX+4 and +6


Can be used with hood fitted and side screens, hood down and side screens or without hood and side screens

wind deflectors accomodated with pockets when ordered and some anti roll bars.

Use with or without luggage rack

Protects Mohair hood material from harmful stains and bird droppings etc

Can be used with or without high level brake lights.

Slopes away from windscreen to front and rear shedding rainwater more effectively.

natural ventilation between underside of cover and bonnet when the engine bay is hot
A 'Made in England' quality product sold extensively throughout the Morgan world

Price
2 seater version from : £104.00 + postage at £6.50 the new CX +4 and +6 £115.00 + £6.50 postage ( Postage outside the U.K at the appropriate rate)
4 seater versions from £125 contact 'John' for details as these are custom made to suit the varying shape and length of the 4 seaters *( on 4 seaters, for use with the hood in the down position and rear head restraints removed only)*.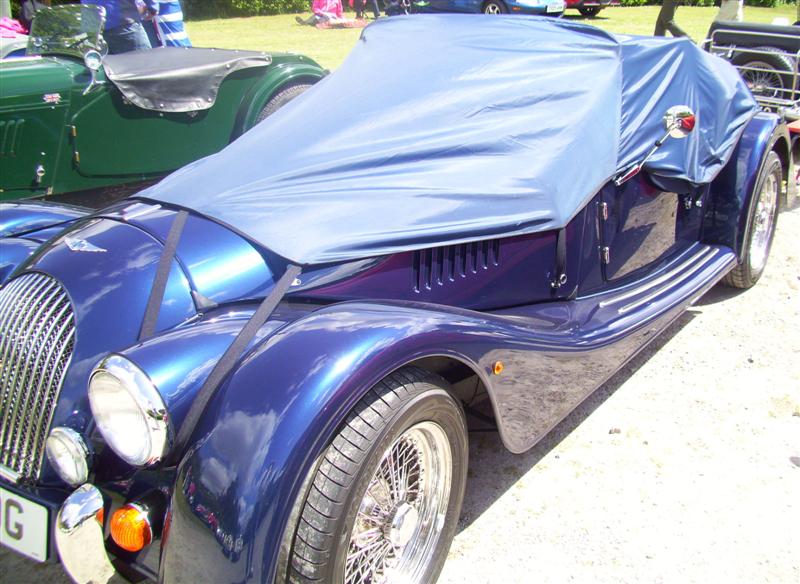 2 elastic straps surrounding and securing front of cover
Covers the Cockpit and Bonnet vents with 4 rear loops and side straps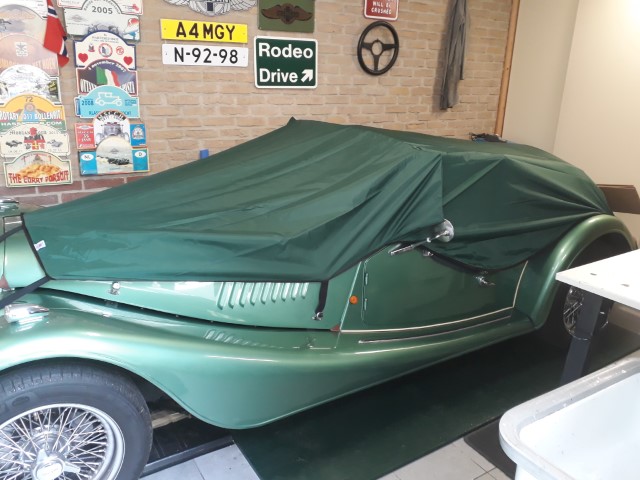 Johan's storm cover with deflector pockets Marcel in Austria

a CVH 1989 4 seater version
(Photos with kind permission of Mike Smith 'Logmog')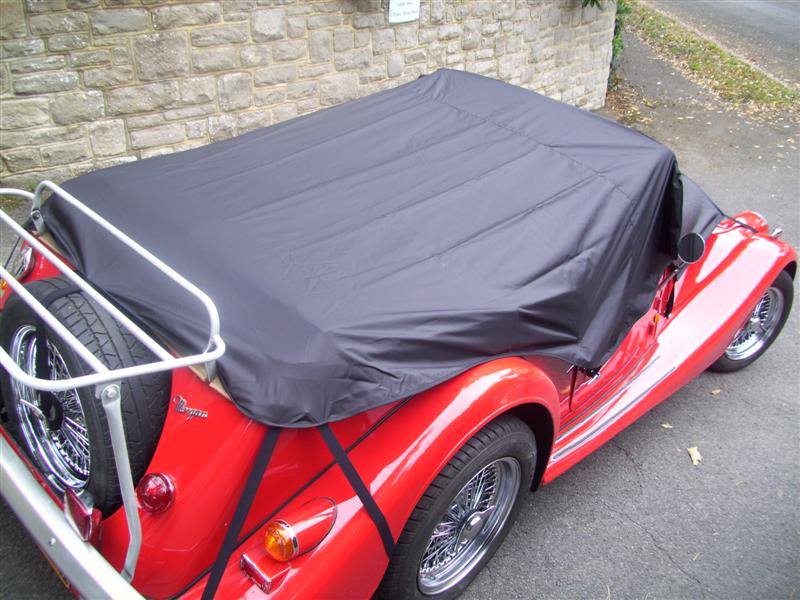 Storm Covers in Action at Le Mans Classic 2006
Coustomer feedback
Hi John
just a quick note to say thanks very much, the cover works an absolute treat! We have just got back from a week in Donegal, with very typical Donegal weather, the cover kept the car nice and cosy overnight!...best regards........... David from Middlesex
see also http://talkmorgan.com/ubbthreads.php/topics/279196/2_seater_cockpit_cover#Post279196